The AQUIS mission is simple: do less to do more. 
Now you can optimize your hair-drying routine with the science-driven simplicity of a new kind of power tool. Whichever your drying preference, the AQUIS FLIP, TOWEL, AND WRAP deliver superior hair health across all hair types & routines. No product, mess, or stress needed.  
Keep reading to discover how AQUIS delivers stronger hair, nothing added.
TRADITIONAL DRYING ROUTINES ARE DAMAGING
Your hair's structure is made of multiple types of bonds. Hydrogen bonds are one of the reversible bonds that break when hair is wet, and reform when water leaves as hair dries. That means every time you step into the shower, you're getting ready to weaken it. When hair is in this wet state, the connection between hydrogen bonds and neighboring keratin chains (which are responsible for hair's core strength & elasticity) are interrupted. This leaves hair susceptible to irreversible damage and breakage from your drying routine.
Traditional drying methods like rough towels and blow drying result in frizz, breakage, mechanical & heat damage to already weak, wet hair. This further compromises your hair strength and health. Using this understanding of hair's biology and structure, we engineered a solution to quickly dry without heat or friction for stronger, healthier hair.
UP CLOSE WITH OUR HAIRTECH
What makes an AQUIS hair-drying tool healthier for your hair? The answer is in our proprietary AQUITEX™ hairtech.
This patented technology uses uniquely woven channels that quickly and gently wick water away from hair without heat or friction. By allowing for rapid reforming of broken hydrogen bonds, you get improved hair strength, keratin structure, reduced frizz, and increased shine for all hair types.
Powered by our proprietary AQUITEX™ technology, the FLIP, WRAP, and TOWEL are all clinically proven to leave hair up to 5x stronger than traditional drying methods*. Whichever your drying preference, these hair-drying tools deliver faster drying than air drying, and less damage than with a traditional towel or speed drying with a blow-dryer.
Your healthiest hair should always be this simple.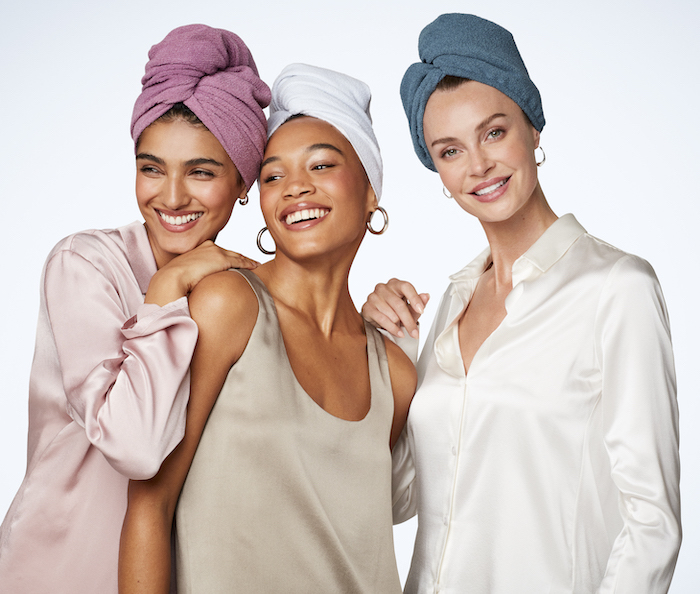 *Results observed in a scientific study on 8x bleached hair after 8 cycles of washing + drying. Results may vary with hair condition and frequency of washing.